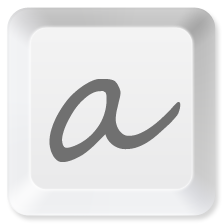 Forget your serial number?
Please search your mail boxes for "aText" phrase to find your license email. If it was lost, contact us.
How to register?
Restart aText, the Register window will show up. Or view this screenshot.
Serial number is invalid.
Just carefully copy and paste your license information. The email is case sensitive.
aText inserts clipboard's content instead of snippet's content.
Try turn off "Automatically restore Clipboard" in Preferences, or increase delay.
How to expand only after hitting Space or Enter key?
In group's setting, set "Expand:" to "At delimiter".
How to make hyperlink snippet?
Set "Content" to "Formatted Text" (view screenshot). In the editor, press Cmd+K to insert link.
How to copy aText data to another computer?
1. Export aText data to ".atext" file, by selecting "File" menu \ "Save..."
2. Import ".atext" file, by selecting "File" menu \ "Open..."
aText does not work.
Try to restart your computer once. Use "Diagnostic" tool in aText's menu.
aText does not expand correctly.
aText may conflict with other apps. Use "Diagnostic" tool in aText's menu.
Secure Input?
Secure Input is enabled by many apps for password fields input or security features.
When Secure Input is enabled, OS X prevents aText from working until Secure Input is disabled.
If Secure Input hangs, please quit your running apps to find which app does not release Secure Input.

How to disable aText in specific applications?
Disable group: screenshot.
Disable "Auto-Correction" function: screenshot.
How to make aText work with Parallels virtual machine?
1. Disable Parallels's Coherence mode.
2. Does not use Full-screen mode.
How to insert snippet in password field?
* Use aText icon in the menu bar to select abbreviation.
* Set a key combination for "Search snippets" hotkey in aText's Preferences. Then press that hotkey in password field and search for your password.
aText window shows at login.
aText is duplicated in Login Items. Try turn off "Start at login" option in aText's Preferences.
Disadvantages of Mac App Store version.
Due to Mac App Store Sandboxing Requirement, some features are unavailable or limited in MAS version.

• Non-MAS version works generally better. Especially MAS version has an issue when using Tab or Enter key to trigger expansion in fields (such as user name / password fields, sheet cells).

• Sync to Dropbox/Google Drive/etc preference resets every launches. iCloud sync works fine.

• AppleScripts and Shell Scripts: your scripts may not work as usual.

• Snippet abbreviations suggestion: can not use Up/Down arrow key to select suggestion; the suggestion window is always centered on the screen instead of near the caret.

• No sync to OS X's Symbol And Text Substitutions.

Migrate your Mac App Store license
• Download and keep the Mac App Store version.
• Download and launch aText from this website.
• If the Trial screen shows up, choose your Mac App Store version to migrate license. If there is no Trial screen, your MAS license is successfully migrated.
Contacting us
If you experience problems, please read above FAQs, and update to the latest version before contacting us.
E-mail us at .
Facebook http://www.facebook.com/aText