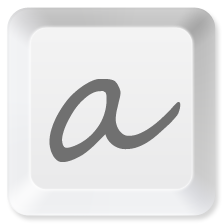 Forget your serial number?
Note: Not for Mac App Store customer, please view below instructions.
How to register?
Restart aText, the Register window will show up. Or view this screenshot.
aText does not work.
Please try to restart your computer once. If it does not help, there may be conflict between aText and other programs. Check the aText icon in the menu bar to see if Secure Input is enabled.
What is Secure Input?
Secure Input is enabled by many apps for password fields input or security features.
When Secure Input is enabled, aText stops working until secure input is disabled. If aText does not work again, this means that the last app which enables Secure Input, does not release Secure Input.
How to make aText work with Parallels virtual machine?
1. Disable Parallels's Coherence mode.
2. Does not use Full-screen mode.
Functionality of Mac App Store version
Due to Mac App Store Sandboxing Requirement, some features will be unavailable or limited in MAS version.

• Non-MAS version generally works better. Especially MAS version has an issue when using Tab or Enter key to trigger expansion in fields (such as user name / password fields, sheet cells).

• Snippet abbreviations suggestion: can not use Up/Down arrow key to select suggestion; the suggestion window is always centered on the screen instead of near the caret.

• AppleScripts and Shell Scripts: your scripts may not work as usual.

• No sync to OS X's Symbol And Text Substitutions.

Migrate your Mac App Store license
• Download and keep the Mac App Store version.
• Download and launch aText from this website.
• If the Trial screen shows up, choose your Mac App Store version to migrate license. If there is no Trial screen, your MAS license is successfully migrated.